Wednesday, June 10th, 2009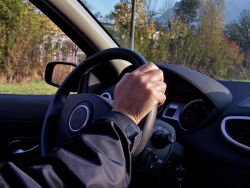 My seniors have the uncanny ability to always keep me on my toes.
Senior:  "Zelzee, I want to sign up for that AARP driving class."
Zelzee:  "The one in June or the one in July."
Senior:  "The one you're having."
Zelzee:   "I have one every month.  I just don't know which one you want to take."
Senior:  "I want to take the one that has the free coffee and donuts, and there's a film to watch in the dark, so I can get some sleep.  Then because I am still breathing by the end of the stuffy class, and you know it's always too  gosh darn hot in that room anyway, well, then I get some dang piece of paper and I save all kinds of money on insurance.  And make sure I have a parking place close to the door, because I don't walk too good anymore without my walker. Oh, and I want to be up front 'cause I don't see worth a dam either!"
Zelzee:  "But when do you want to come to the class."
Senior:  "I just told you.  Weren't you listening?"
Zelzee:  "June it is."
And there is not one doubt in my mind they parked their car right next to mine…………….
.