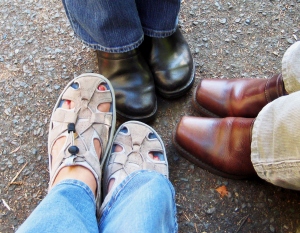 A few months ago my sister and a good friend of ours decided to take a spur of the moment vacation.  Our destination……………San Francisco.  The air fare was cheap and we were able to stay at a 5 star hotel for a great price. It was destiny! Kismet, I tell you!
My sister and I travel great together, so we were hoping our friend would roll with things, too.  She was quite agreeable as long as she could carry around a loaf of sourdough bread and a tub of butter!  She tends to get cranky if she is not fed regularly. My sister and I just rolled our eyes and pictured how ridiculous she was going to look.
I had no idea what to expect on this trip, as I had never been to California.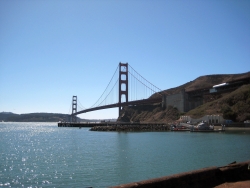 There was not one part of SF I didn't love………The Golden Gate Bridge, Union Square, Fisherman's Warf (Irish coffee…yum!), Ghirardelli Square (need I say more?), Trolley, Muir Woods, Sausalito (I know my next husband was there, but he didn't happen to come out of his house while I was there…………..his loss)………..
The shopping was great. …………….just ask my credit card.   This vacation was the greatest spur of the moment I had done in a long time.
I guess I have to  admit………….as 'county bumpkin' as it may have looked, I certainly did enjoy my share of sourdough bread chunks!
But I will never admit it to my friend…………….