Sunday, February 28th, 2010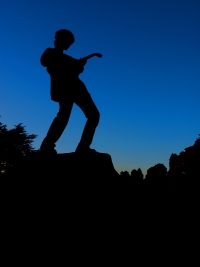 I have lived my life thinking life should be a Bon Jovi song.  Very sweet, loving and happily ever after.
Imagine my surprise to find out it really is a Grand Slam Heavy Metal Jam! Hard, heavy and head banging.
Now, how did I make this monumental discovery, you may wonder? 
well…………………
I had a class reunion this summer.  (Yes, it was a very high number!!!) I was really looking forward to it, as I had not been to one in many, many years.  I had a great time, renewed some acquaintances and turned a few heads! Of course I had on a pair of my favorite drop dead stiletto's and sexy top!  Life was good.  Very, very good that night.
As I arrived home, I was horrified to discover my house had been broken into and I had been robbed!  They took all my gold jewelry, cash, passport and driver license.  (I can only hope my name doesn't become the next terrorist!)
Yep, Heavy Metal…………………..
I think Guns 'n Roses are right…………"Welcome To The Jungle".