Friday, August 7th, 2009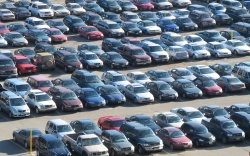 I was at a wedding a few weeks ago (one of many I have attended this summer).  I was looking forward to it, as the reception was being held at a very posh elite club.  Very, very fancy, shmancy……
I was thrilled to see valet parking was offered, which meant I could wear my painful, yet drop dead sexy  black stilettos, and not have to hike through a parking lot!
 Well, I pulled up…………………………sat in my car waiting for someone to come up to me.
There was a group of guests that were outside smoking, watching me.
I still sat in my car waiting for someone.  Now I felt like an idiot. Was I in the wrong place? Was I supposed to get out of my car and look for someone?  Smokers still staring at me………………….
Finally a young man slinks up, hands me a ticket, and drove off with my car. 
I felt much better now.
Attended the reception………..pretty much the standard wedding…..a bride, a groom, young love, a cake, and a dinner.
Time to leave………..
Got out my little ticket and walked to the doors where two young employee boys were sitting.  I handed one of them my ticket.  He looked at me with a blank stare, did a deep sigh (and I know what that means, you little shit), and sauntered out to get my car.
I waited…………..talked to one of the bridesmaids.
I waited…………..talked to the bride.
I waited………….talked to some guy hitting on me.
Finally another car pulled up front, and a group of grandma's with walkers proceeded to fill their vehicle…………very………..slowly.
I could see my car behind them.
Finally, grandma, grandma, and grandma were all packed up, walkers safely tucked in the trunk, and they slowly rolled out of the parking lot.  I was waiting for my car to pull up under the canopy, but it did not move.  On closer inspection………….my car had been abandoned, door wide open………nobody in there………
I walked over to my car, got in, and drove the way home swearing at the little shit for leaving my car …………..as I was swatting (all the way home) at all the bugs that had flown into my car toward the interior light!!!
Was all this really worth a pair of hot, sexy diva shoes?
yes it was………………………..
.