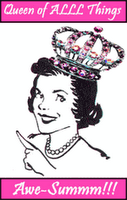 I have been tagged by SWANEESINGER to list 7 Awe-Summm things about me.  I refuse to think today, so I am just going to type the first 7 things that come to my mind.  I am to tag seven bloggers new to me……………..excuse me, you're ALL new to me…
Soooooo….anyone who would like to participate, please join me!!
Short.  5′

Stubborn, stubborn, stubborn.  I would just as soon lose a body part than ask for help. Plus, people generally tell me that I am…………..just in case I  didn't notice.

Hooked on Reality TV.  (I never usually admit to this)

I kicked cancer's butt! Just did an article with our newspaper re: my cancer story.

I am alone, but never lonely.

I was the first female elected official in our town.

I am the moderator on TV for a local cable axcess TV channel.
Now, I just can't leave some things alone and I wanted to get a different perspective on what is Awe-Summmm about me.  so, I asked my granddaughters for their unbiased opinion, and they came up with:
Funny and cute. (I just love these girls)

Cool shoes (they play dress up in all my shoes…old and new)

Make the best mashed potatoes.

My house.  They can make a mess and I don't yell.

Buy them toys

I have the best sparkly jewelry.

Makes them laugh (In a good way, I'm sure)
Never yell  (I know it's 8, but I couldn't NOT add this one, right, Mommy, hehe)
Actually, I like their list better………………….