I am not a person that like to wear tops with cute little sayings written across my chest.  But sometimes a piece of clothing comes along that just says it all………………and no matter how many times it's been thrown in the trash, I always pull it out.  Because I know deep down there is still some life left to be sucked out of it!
 And this ragged, stained, excuse me I look like a bag lady sweatshirt…………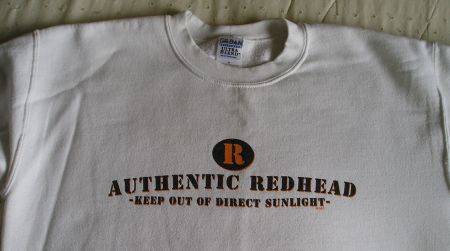 Becomes your favorite…you assume it MUST be your favorite because there are 52,347 pictures of you in it.
Brings a smile to your face everytime you wear it…..because you know it will embarass your children.
It reminds you of your youth….when the sweatshirt and not your hair was white in color.
It was worn all through your childrens growing up years……..because you couldn't fit into anything else after giving birth…………..you just wore it until you lost that weight………..(OK, so I'm still wearing the damn sweatshirt).
It tells a story to everyone you meet……….especially those that are checking out your boobs.
It keeps you warm…….something had to, being single and all.
It makes others smile….HEY! look at that stupid, stained, bag lady sweatshirt that ditzy broad is wearing.
 When you think about it, Sweatshirt, you have hung around longer than any of my husbands………………
So………….nothing but the best for YOU!
Vanilla/Lavender fabric softener………………..
Maybe even two capfuls……………………………