I promised myself I was going to be sooooo good this year and start an exercise program in 2009.  I was going to begin on January 1.
In fact this was Zelzee's #1 New Years Resolution.
I gave this resolution deep thought in January, and serious consideration in February……along comes March………is there a statute of limitations on resolutions? No?

Well…………
I remembered these great ab exercises in one of my favorite magazines a few months ago……..yes, yes, I am getting excited………..an ab workout is just what I need!!!!
So, I dug through my bags of recyclables……………whew! I sure have alot of paper crap  junk mail and papers………
Ok, ok, back hurts from bending over so long, but I FOUND IT!!!!
Ok, hot bod………….I'm on my way……
Weights……….weights………..where are my weights?
Oh no, did I sell them in my garage sale? (There's not much I  I won't do for a quarter). No, I'm sure I didn't…………so where…………..
PLEASE…NOT IN THE BASEMENT!!
That is the Bermuda Triangle!!! Anything that sail down those steps disappears………………never to be viewed by human eyes again.
Thank you! Thank you! Found them little suckers…………..they were hiding in the hall closet………….come out, come out, little guys, I won't hurt you.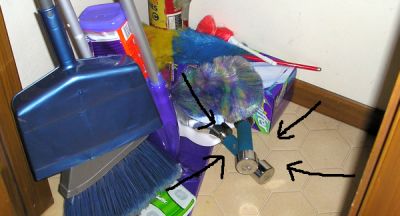 Not to worry, I'm still pumped about working out…………..I guess
Wait! some of these exercises call for a resistance band…………………….where?
Oh…………………there………


Starting to get a little edgy here……………
No, Zelzee, get serious………It's time to start working out!
Sigh……………
Now I need my reading glasses to read how to do these exercises…………….
Double sigh…………
What to wear? I don't have a stupid  cute little exercise outfit like the girl in the magazine.
Stress, stress……
Will these exercises only work if you are wearing matching stretchy thingys? Oh, God, even her shoes match her outfit!
Just shut up, and start already!
Start on the first exercise…………..ouch! ouch! pain……………
what do you mean I have to do more than one?……..10 reps?………..are you a masochist flippin' for real?
Something is strained………….or pulled…………………or torn, and I haven't even picked up a weight yet.
Know what? Forget this!………..why should I put my body through this unnatural torture?
Tops are big and baggy this year…………….
And who needs to see my butt?? I'll just walk around backwards…………
Alrighty then………………I'm repossessing this resolution.
Problem solved!!!!!
All this jumping around here like an idiot loon  commotion has made me hungry!
Give me a minute…I'll find that chapter on healthy eating!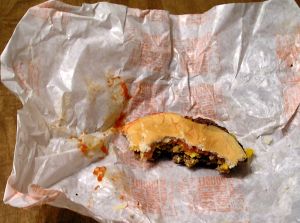 Tomorrow……….