I just returned from a pampered spa treatment and a complete make-over. I must admit I was treated like a princess……………..something I can honestly say I am not accustomed to.
I called yesterday and can you believe it , I was able to get in at 5:00 at Miss Diva's Beauty Salon. This is THE hottest, hippest salon in town!….Color me flippin' lucky!
I was a few minutes late, but Miss Diva was very understanding:
Diva: "You're late! I have been waiting for you, Zelzee"! Uh oh………hands were on hips…….
Zelzee: "Sorry there was a long line at the liquor corner store." Like she need to know where I have really been!
Diva: "Come into my parlor".  I know I have heard this somewhere before………..hmmmmm…..something about a spider & a fly?
Diva: "Did you bring a picture?" Diva is VERY demanding.
Zelzee: "Of what? My last vacation?"  Yeeks…..ugly, ugly glare……….Diva has NO sense of humor.
Diva: "………Sigh………….what 'look' do you want?"  Uh oh, now toes are tapping……….this is NOT good.
Zelzee: "Oh, please, Diva, just use your own judgement".  Is she nuts?…as the 'looks' I  can obtain are limited …….I only have about 1 1/2″ of hair.
Diva: "We will spike it. Oh, and your eyes look very, very bad. We will have to put some eyeshadow on you." I really didn't think I had bad eyes. Bloodshot maybe, but not really 'bad'.
Zelzee: "Go for it……………..you're the professional." Please let me look human when I leave here.
Diva: "Well, you're starting to look good……………..let me blow dry your hair now." Diva handed me the plug and actually expected me to plug in the blow dryer!
Zelzee: "Um, are we almost done?….this chair is starting to hurt my back." Zelzee is getting impatient.
Diva: "You must be patient!" Shit, did I say that out loud?
Zelzee: "Um, are we done now?" Zelzee is STILL getting impatient……and a sore butt  from sitting still so long.
Diva: "……….sigh……………just one more thing. Your nails are terrible. We MUST put some nail polish on them." Well, of course we must.
Zelzee: "OK, NOW are we done?"
Diva: "Yes, Grandma, and see how beautiful you look!"
I was pampered by the BEST!
6 year old Diva granddaughter was very patient with an antsy Grandma Zelzee. I must admit I am now drop dead gorgeous!
Lookin' sexy, mama………………………
Perhaps I will take the nail polish off, though. Diva picked blue sparkle, and since I will be going in for some tests tomorrow……………….I don't want to freak them out and have them try to start resuscitating me if they see blue nails on the table!!!!!
Wait! What does the resuscitator look like????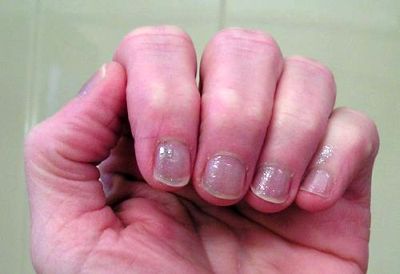 Admit it……………..do these nails rock or what?