They say spring is right around the corner.
They also said we were going to have a mild winter……..(AFTER 7,252 inches of snow , and I'm sure we're NOT done yet!)
Anyway that stupid, rodent faced little groundhog got me to thinking about outdoor projects I would like to work on this year.
Zelzee's backyard garden really leaves much to be desired…………….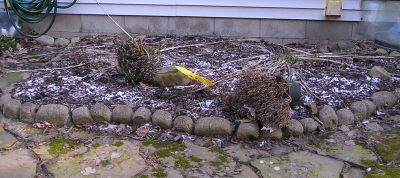 (Zelzee calls this a garden?  Shame on you for even thinking of pretty names to call this swamp land….)
So, I have spent all winter making all kinds of wonderful plans for my little garden…………………
I plan to transform it into this…………………
What are the odds? One maybe two weekends?